Skip to end of metadata
Go to start of metadata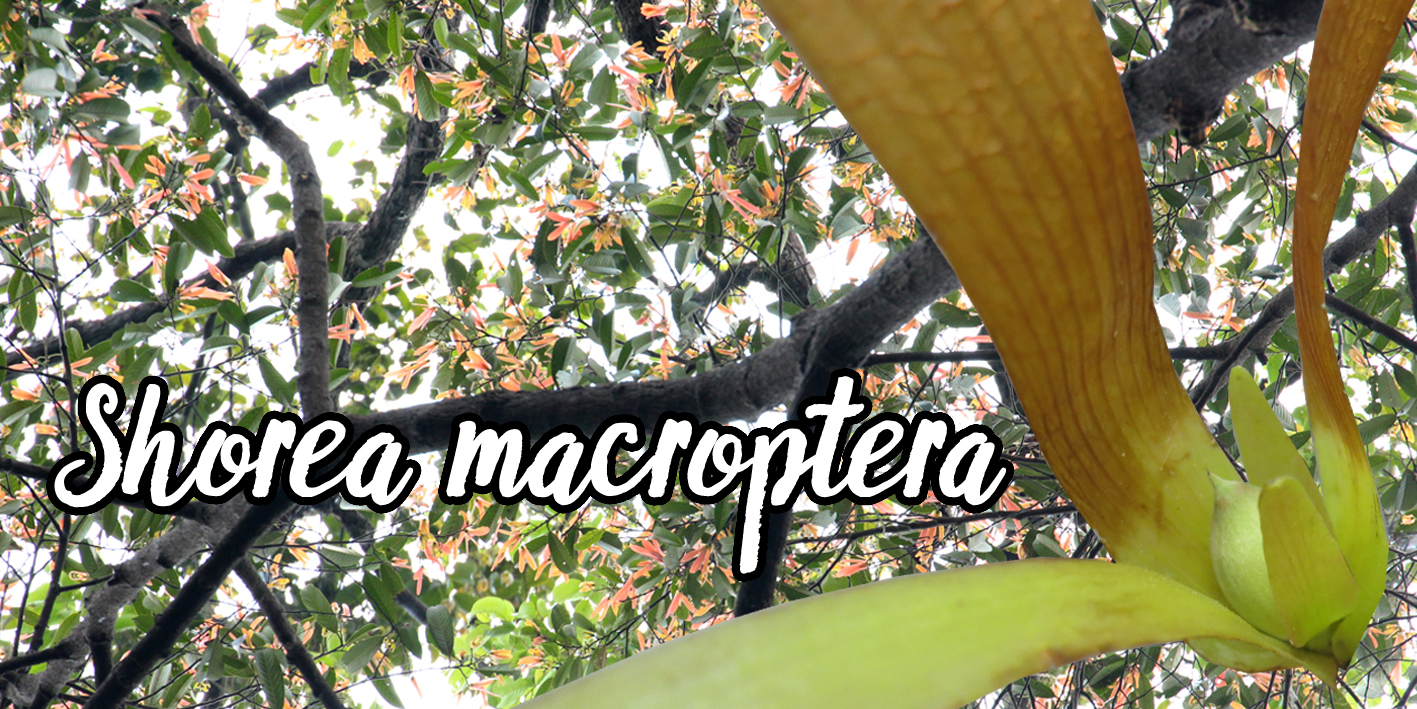 Cover image adapted from Louise Neo
Table of Contents
Introduction
Have you ever seen some very tall and large trees while taking a walk in the Bukit Timah Nature Reserve or in Macritchie Nature Trail? Many of these trees are dipterocarps, which are a dominant group of trees in Southeast Asia. This page will teach you about one of the dipterocarp trees,Shorea macroptera. Shorea macroptera is a tree that is native to Singapore's primary forests1 . It is very large, growing up to 50 metres tall and up to 1.5 metres wide 2 . Read on to find out more about what is so special about this tree!
---
Biology and Ecology
Habitat
Shorea macropterais naturally found in well-drained lowland rainforest, from sea level to heights of up to 900 metres above sea level 3 4 . It has been observed to grow in hilly parts of the forest especially. In Singapore, S. macroptera can be found in the primary forest patches of our nature reserves, namely the Bukit Timah Nature Reserve and the Central Catchment Nature Reserve.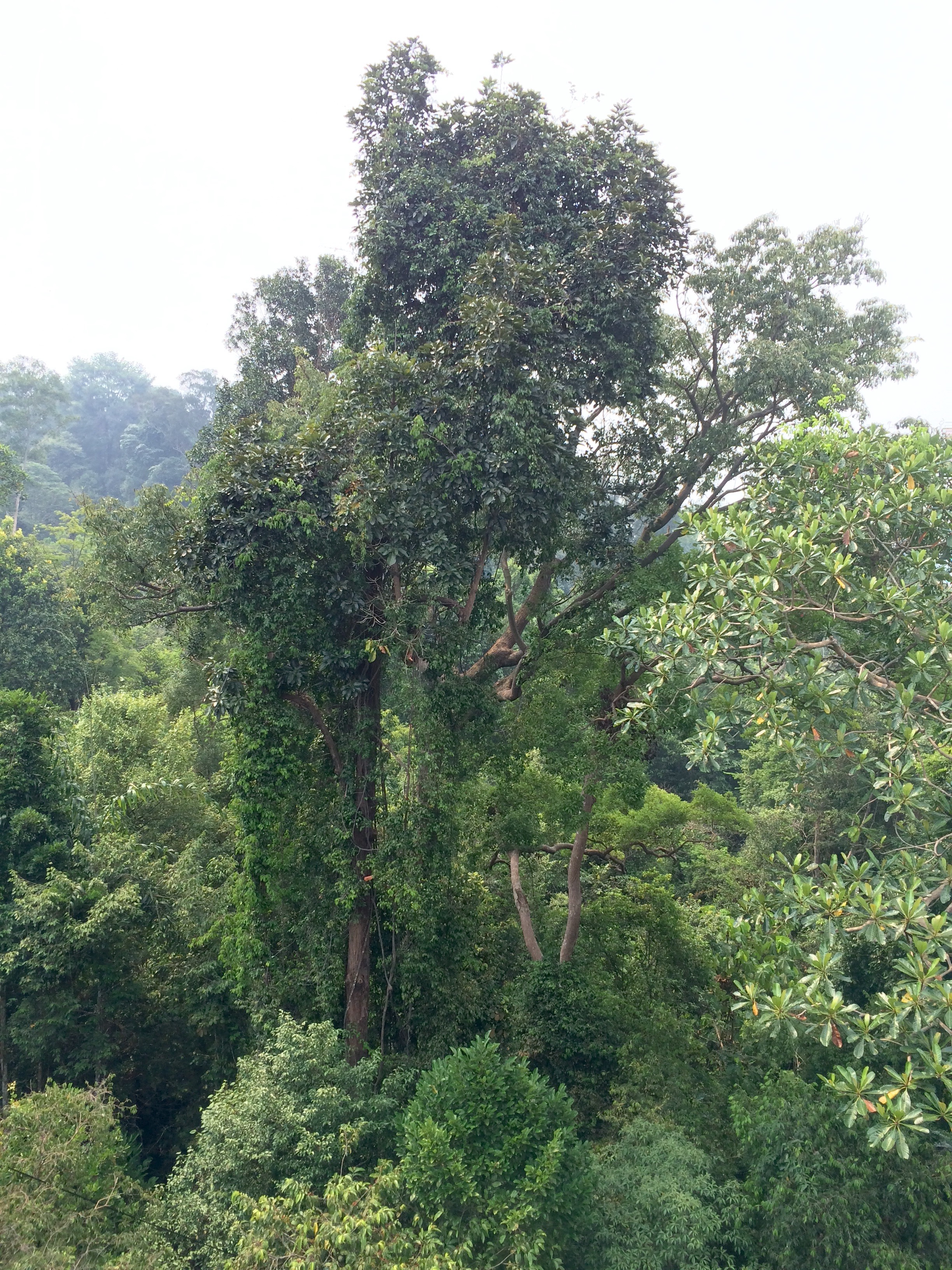 Central Catchment Nature Reserve. Image under Creative Commons license from Jimmy Tan.
Reproduction and Seed Predation
The flowers of S. macropteraare pollinated by flower thrips5 . Shorea macroptera, like others in its family, are peculiar in that they participate in a phenomenon known as general flowering and masting, where multiple tropical species flower and fruit simultaneously, leading to large amounts of fruits being produced in a relatively short period of time6 7 . It is quite a sight to see many of the trees sporting brightly-coloured flowers and fruits at the same time. This usually occurs after a dry period or El Nino event. Shorea macroptera thus only flowers and fruits with such masting events, every two to ten years 8 . It is unknown why this occurs, but one hypothesis is that by doing so, the trees flood potential predators of their fruits with too much food, hence satiating the predators and allowing some of the fruits and seeds to escape predation and germinate. This is known as the Predator Satiation Hypothesis. Many studies have attempted to test this hypothesis but the verdict is still undecided. Many animals, ranging from mammals to insects, eat the fruits of S. macroptera. Mammals such as macaques and squirrels eat the seed of the fruit, while certain beetles and moths lay their eggs within the seed so that their larvae can eat the seed from inside out when they hatch 9 10 .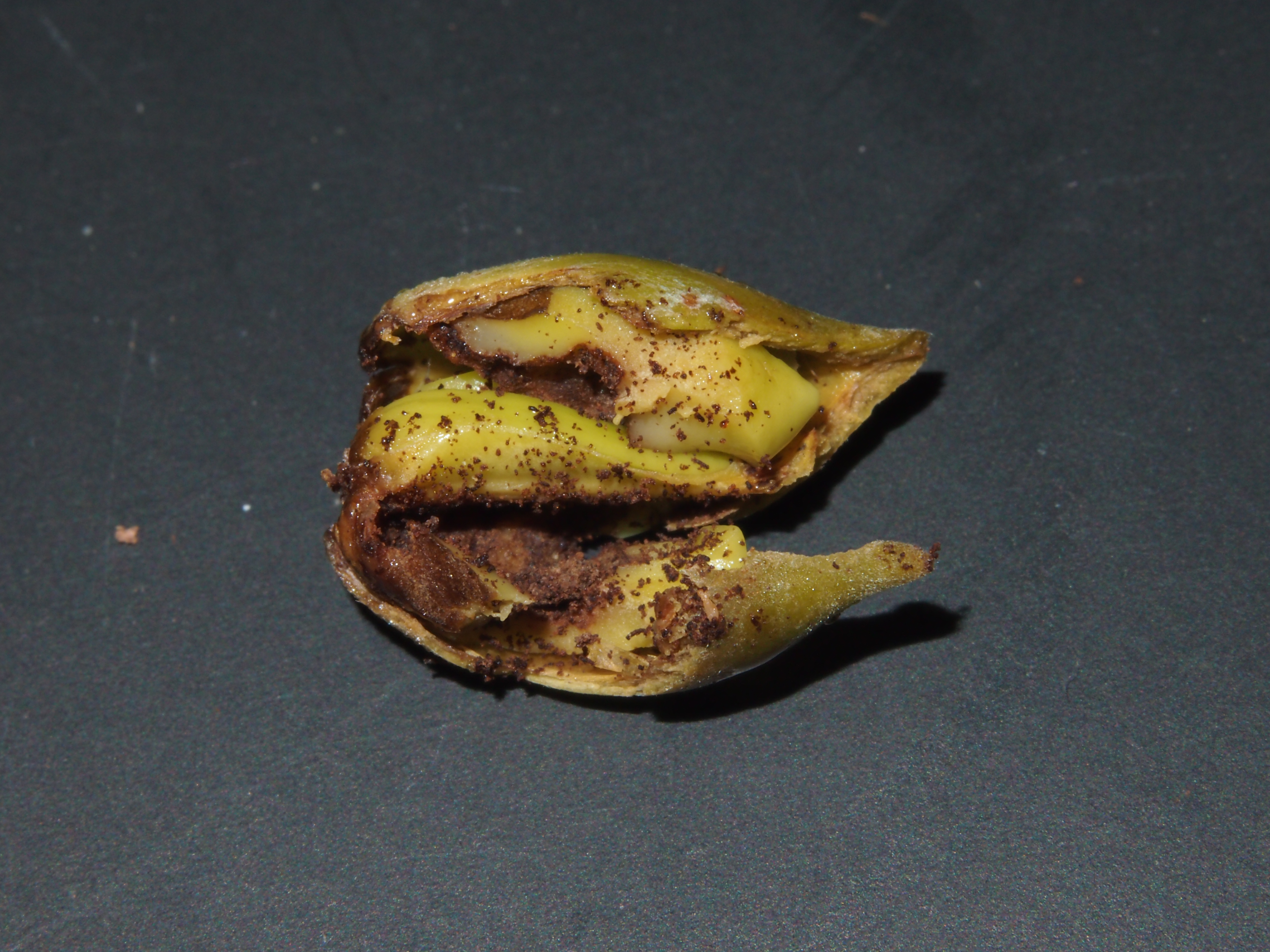 Picture of tiny moth larvae faeces within the S. macroptera seed. Image from Rie Chong.
---
Description
Trunk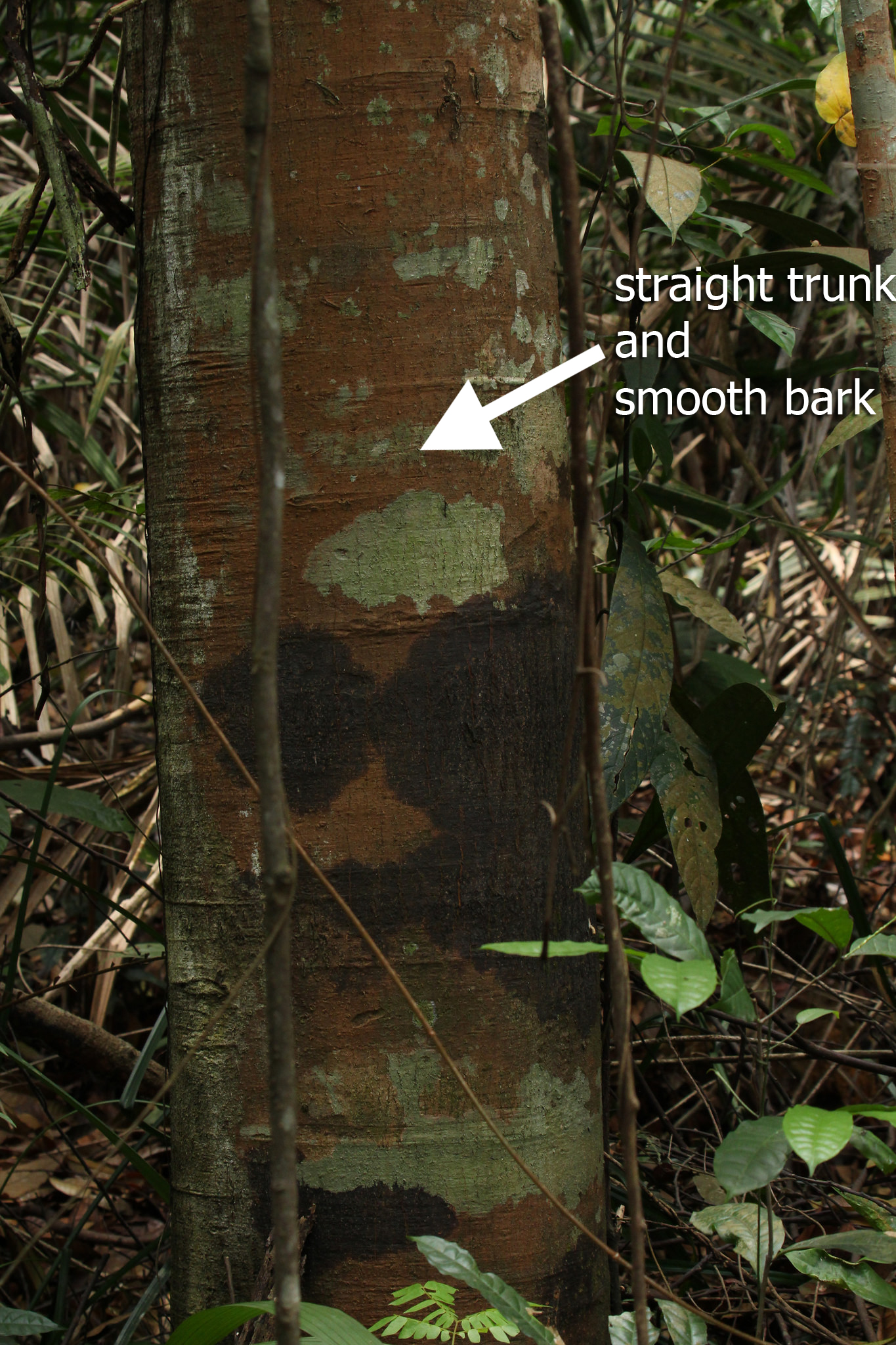 Image from Louise Neo. Annotations by Rie Chong.
Shorea macroptera has a straight, cylindrical trunk11 with relatively smooth bark that is greyish-brown in colour with patches5 . It has buttress roots, though not very prominent nor high5 . The outer bark is thin and can be broken off easily to expose a red inner layer underneath.
Leaves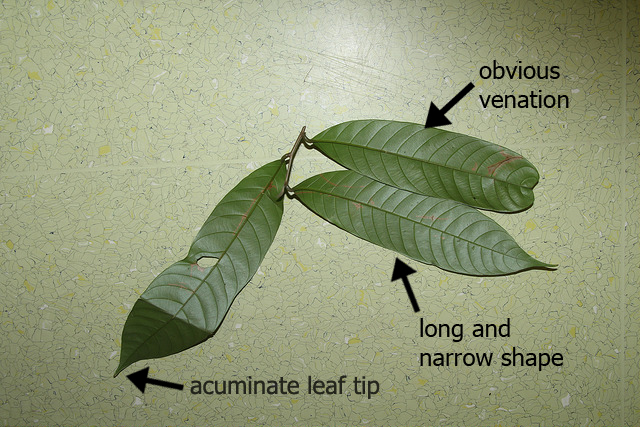 Image from Louise Neo. Annotations by Rie Chong.
The leaves are elliptic-oblong in shape, meaning that they are shaped like long and narrow ovals, and are approximately 13 cm long by 5 cm wide5 . They are shortly acuminate at the leaf tip, and typically fold along the midrib in the middle of the leaf. They are also thick and leathery in texture, and turn brown when dry. Veination is obvious on the underside of the leaves.
Flowers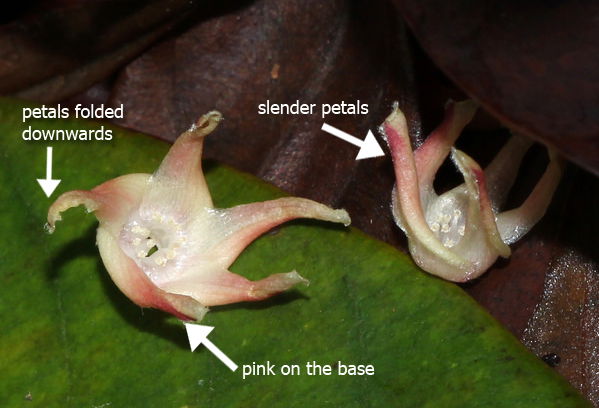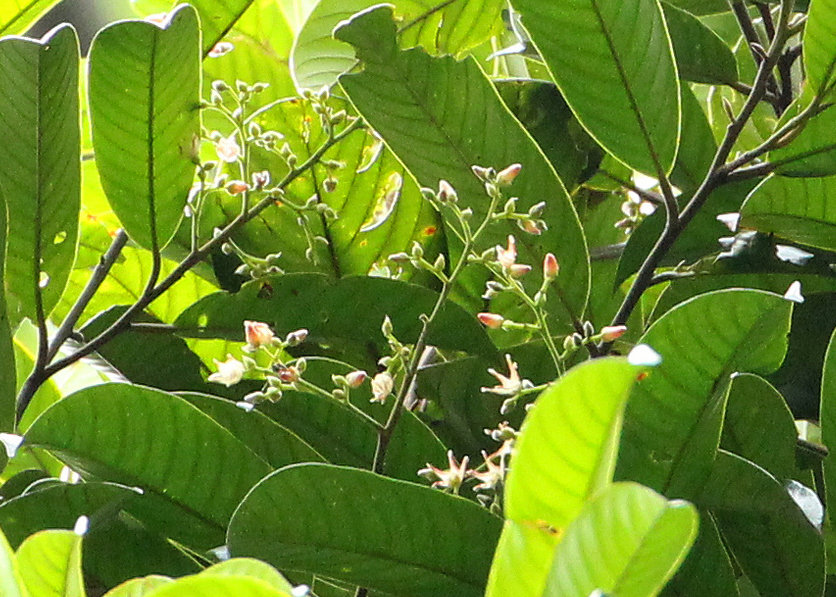 Images from Louise Neo. Annotations by Rie Chong.
The flowers of S. macroptera are small, measuring only about 2 cm across when in bloom5 . They are white in the centre and a pinkish on the base. The petals are very slender and are usually folded downwards.
Fruits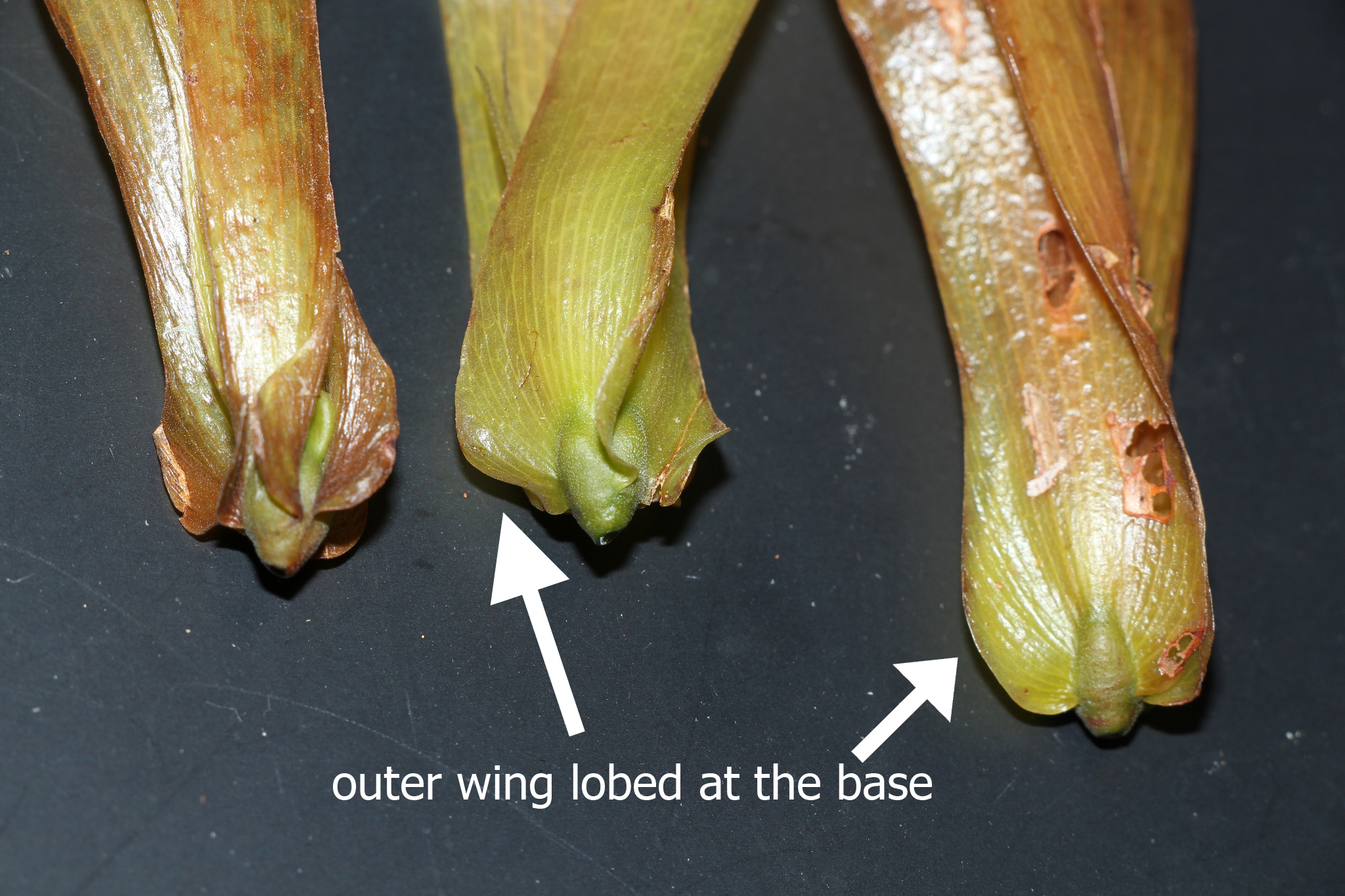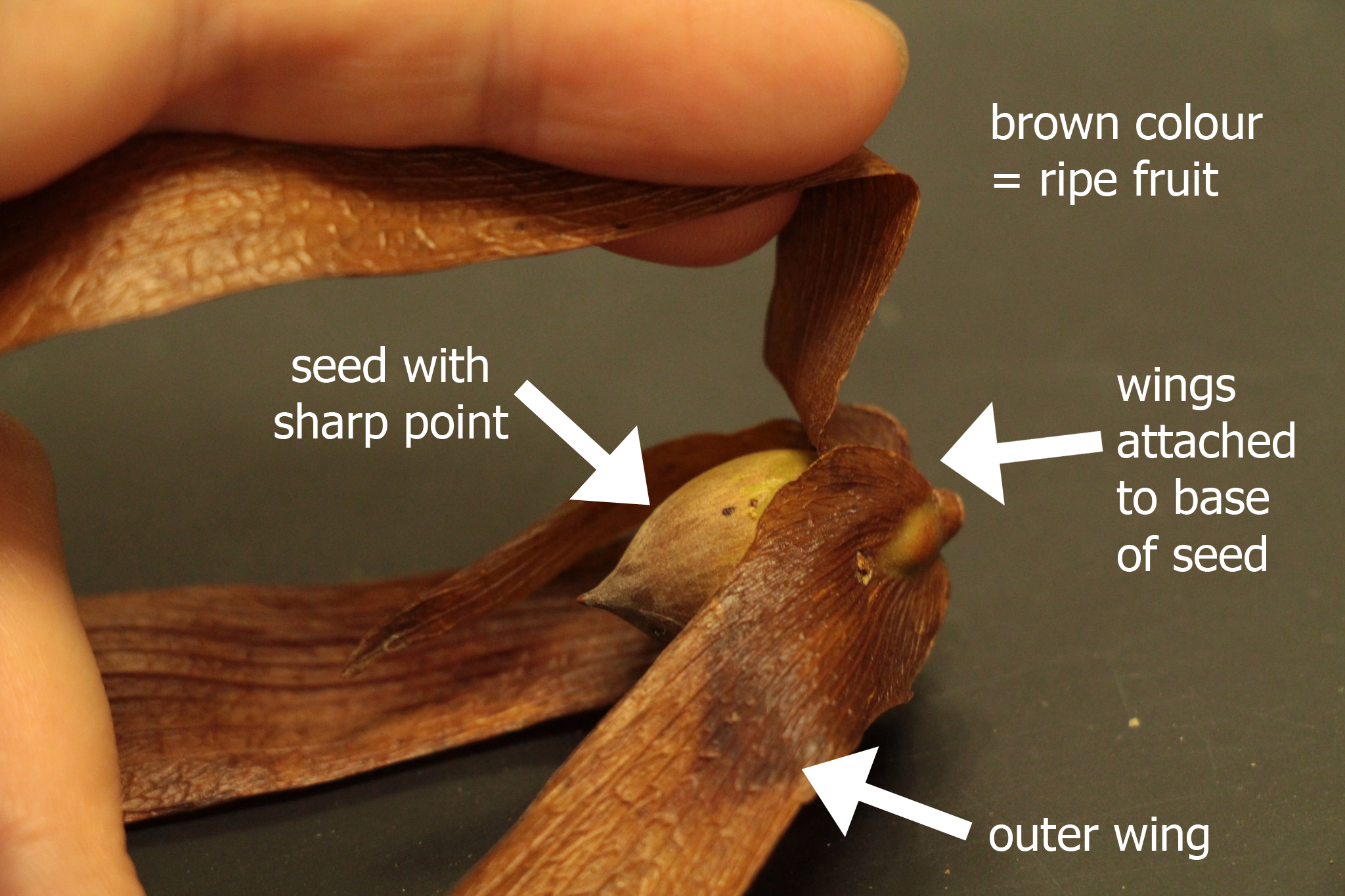 Images from Louise Neo. Annotations by Rie Chong.
The fruits have wing-like structures that are characteristic of the family of S. macroptera. They have three large outer wings and two smaller inner wings5 . The three outer wings are about 12 cm long and very broad and lobed at the base, similar in shape to ear-lobes, while the two inner wings are narrow and approximately 6 cm in length. The seed lies in the middle of the wings, is about 1.8 cm long and is egg-shaped with a sharp point on top. The wings are only attached to the seed at its base. The wings start out reddish in colour and turn brown as the fruit ripens, while the seed turns from green to brown as the fruit ripens. The wings are involved in the dispersal of the fruits. As the fruits drop from the tree, the wings help them spin in mid-air, similar to a helicopter's wings, thus allowing them to flow with the wind and be dispersed away from the mother tree. A video of a spinning fruit can be seen on the right. Try the DIY activity below to see how the fruit spins! 
https://thumbs.gfycat.com/LegalSardonicAddax-mobile.mp4
Video from Lorraine Tan. Adapted by Rie Chong.

---
Diagnosis
Diagnosis involves distinguishing species from other similar species. Like other species in the genus, S. macroptera has fruits with three large outer wings and two smaller inner wings. It can be distinguished from other Shorea species by the following characters:
| | |
| --- | --- |
| The trunk of S. macroptera has a relatively smooth bark unlike other Shorea species that have a more fissured bark. Shorea macroptera also has a dark red layer beneath its thin outer bark3 .  | Images from Louise Neo. Annotations by Rie Chong. |
| Shorea macroptera has leathery leaves that are relatively narrower than other Shorea species3 . | Images from Louise Neo and Chong Kwek Yan. Annotations by Rie Chong. |
| Though the fruit is rather distinctive with wings that are broadly-lobed at the base unlike other Shorea species (Figure 4), it is not as useful for identification in the field because it fruits so infrequently3 . | Images from Louise Neo and Chong Kwek Yan. Annotations by Rie Chong. |
---
DIY Activity
Learn more about how the fruits of S. macroptera are dispersed the fun way, by making your own paper model of the fruit! The instructions and template for this activity are shown in the picture below. Right-click on the picture and select "Open image in new tab" to print the template.
https://thumbs.gfycat.com/FlawedLimpingButterfly-mobile.mp4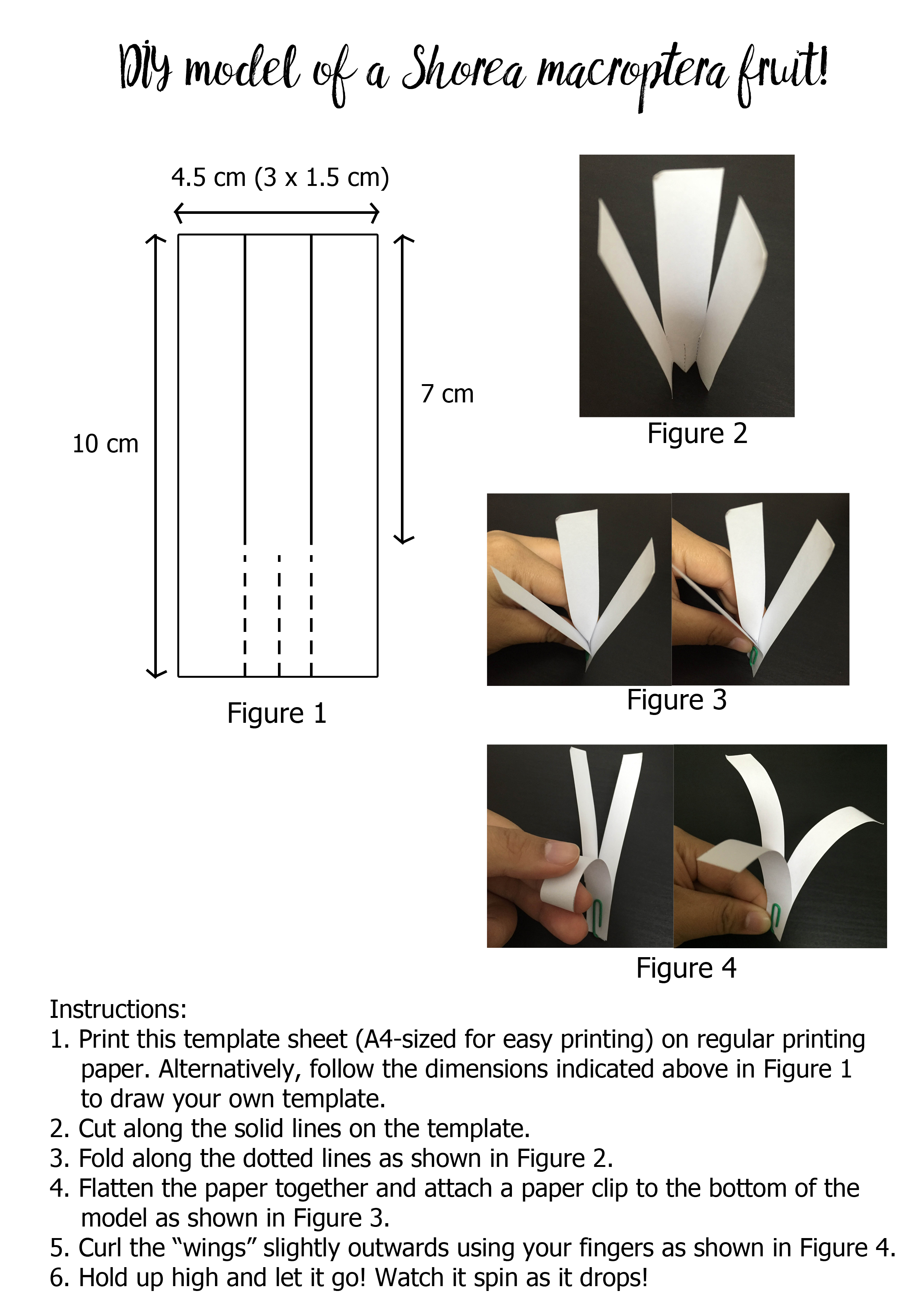 ---
Status and Distribution
Shorea macroptera can be found in Peninsular Thailand, Peninsular Malaysia, East Sumatra (incuding Singkep Island and the Lingga Islands), and Singapore12 13 .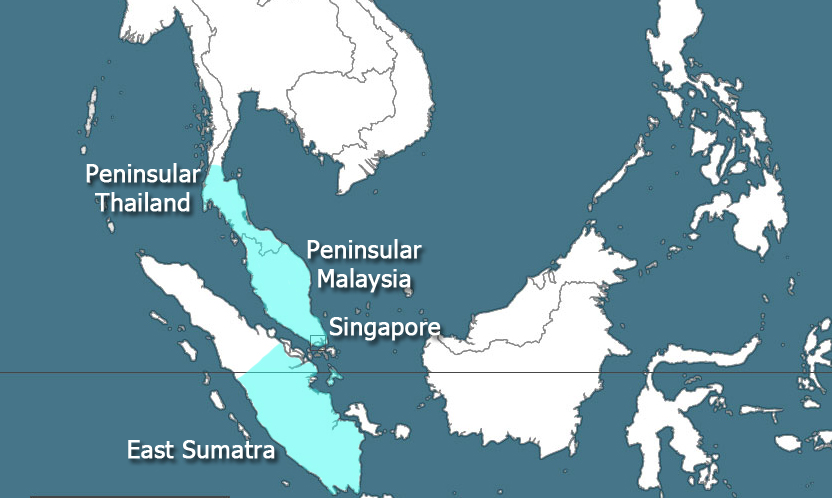 Map showing regions where Shorea macroptera can be found (shaded in light blue)4 . Map adapted from ASEAN UP.
In Singapore, it can currently only be found in remaining patches of primary forest in the Central Catchment Nature Reserve, Bukit Timah Nature Reserve, and the Singapore Botanic Gardens14 . Because there are few individuals left in limited areas, they have been assigned the conservation status of Vulnerable in Singapore15 . Fortunately, being situated in the nature reserves and botanic gardens affords this population some protection from further decimation. The IUCN Red List listed S. macroptera as being Critically Endangered16 . Deforestation to make way for plantations and urban settlements may threaten this species further, especially in developing areas in Sumatra and Malaysia.
---
Uses
The wood from S. macroptera is called Light Red Meranti and is commonly used as timber in south-east Asia17 . The wood is a light hardwood that is off-white to pink or light red in colour, and has a coarse texture with little smell. It is commercially very important as a timber species. Its bark was also used for constructing the walls and floors of native huts18 .
---
Naming
Accepted scientific name: Shorea macroptera Dyer19

Vernacular (common) names: Meranti melantai, melantai, balantai, kepong labu, kepong segar5
Synonyms: Shorea baillonii Heim (1891), Shorea sandakanensis Sym. (1938)20

Etymology
The genus Shorea is derived from the name of Sir John Shore, who was Governor-General of India from 1793 to 179821 . The specific epithet macroptera (meaning large-winged) refers to the large wing-like structures that wrap around the fruit. S. macroptera belongs to the dipterocarp family and di-ptero-carp refers to two-winged fruits, because this family is known for its fruits with wing-like structures and its representative genus has fruits with two large wings22 .
---
Taxonomy
Linnaean Classification
Kingdom: Plantae19

Phylum: Tracheophyta
Class: Magnoliopsida
Order: Malvales
Family: Dipterocarpaceae
Genus: Shorea
Specific epithet: macroptera
Original Description
The original description of this species was written by Dyer in 1874 in The Flora of British India. 

Figure 5. Original description of S. macroptera23
Type Specimen
The holotype that the original description was based on was collected in 1855 by A. C. Maingay . It is now deposited in the Royal Botanic Gardens, Kew in London. A picture of the holotype specimen of S. macroptera can be seen from this link: http://www.kew.org/herbcatimg/288023.jpg .
Subspecies
Several subspecies of S. macroptera have been defined based on morphological differences in different geographical populations, such as S. macroptera ssp. baillonii, S. macroptera ssp. sandakanensis, S. macroptera ssp. macropterifolia, and S. macroptera ssp. macroptera12 . The subspecies that this webpage is based on is S. macroptera ssp. macroptera, which is found in Peninsular Thailand, Malaya, Singapore, Singkep, Lingga, and East Sumatra.
---
Phylogeny
The Angiosperm Phylogeny Group (APG) classification system was initiated to re-examine higher-order classification of vascular plants, especially in a phylogenetic framework. According to the APG IV classification system, which uses clades rather than ranks, the classification of S. macroptera is listed below from largest clade to smallest clade24 :
Clade: Angiosperms
Clade: Eudicots
Clade: Superrosids
Clade: Rosids
Clade: Malvids
Order: Malvales
Family: Dipterocarpaceae

The APG IV classification system combined data from many phylogenetic studies done using different genes to come up with a consensus tree24 . According to this updated consensus tree, the Dipterocarpoideae, the subfamily that S. macroptera belongs to, is sister group to Sarcolaenaceae which is another family, and Sarcolaenaceae may need to be moved to be within the Dipterocarpaceae family because of their similarities. Evidently, more studies have to be done to understand the phylogeny of the Dipterocarpaceae.

Phylogenetic relationships within the Dipterocarpaceae have also been studied. One study used chloroplast nucleotides sequences trnL trnF spacer, trnL intron, and matK to examine the relationships within the Dipterocarpoideae, a subfamily within Dipterocarpaceae, and found that the genera Vatica, Cotylelobium, Stemonoporus, Anisoptera, Vateria, and Upunaformed one clade, genus Dipterocarpus formed another clade, and genus Dryobalanops formed yet another clade25 . The genus Shorea, however, did not form a monophyletic clade, instead being separated into two clades. Shorea macroptera is closely related to Shorea acuminata, Shorea parvifolia and Shorea quadrinervis, and belongs to the Red Meranti clade. However, this study used maximum likelihood and the support values are not very high as seen from the phylogenetic tree below. Nodes generally require maximum likelihood support values of 90 and above to show strong support, but the support values for the more recent clades that S. macroptera is in in the phylogenetic tree constructed from the study are rather low, indicating poor clade stability. Hence, these results are to be taken with a pinch of salt till they can be confirmed with further studies.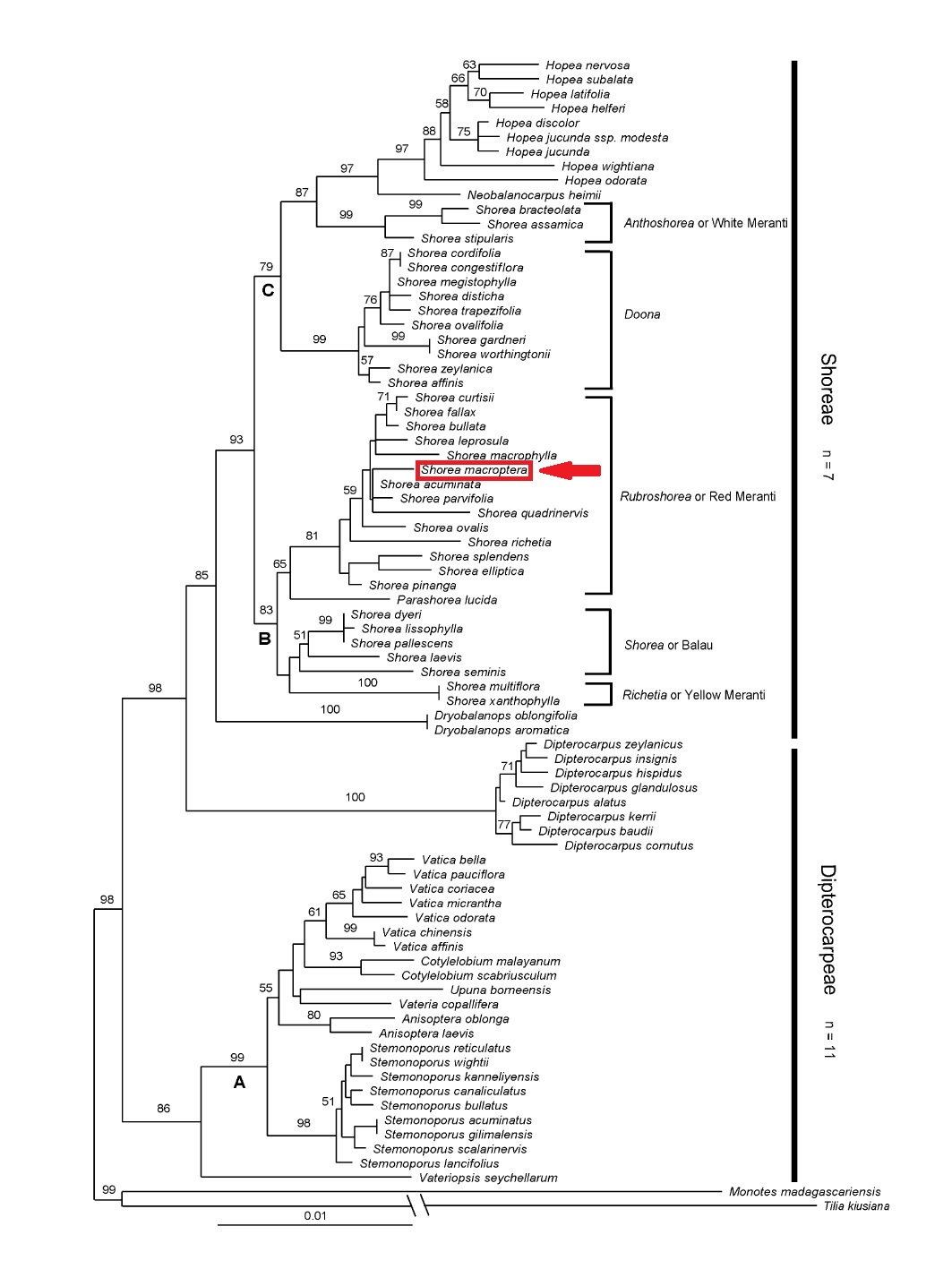 Phylogenetic tree of subfamily Dipterocarpoideae constructed with maximum likelihood using nucleotide sequences from trnL-trnF spacer, trnL intron, and matK regions of chloroplast DNA by Gamage et al. (2006)25 .
---
Acknowledgements
I sincerely thank Louise Neo, Chong Kwek Yan, and Lorraine Tan for allowing me to use their photos and video on this webpage. 
---
References
Footnotes
Ref
Notes
1
National Parks Board (2016) Heritage Trees: Meranti. National Parks Board Singapore, Government of Singapore, Singapore.https://www.nparks.gov.sg/gardens-parks-and-nature/heritage-trees/ht-2014-233(Accessed 9 November 2016).
2

 

National Parks Board (2016) Heritage Trees: Meranti. National Parks Board Singapore, Government of Singapore, Singapore.

 

https://www.nparks.gov.sg/gardens-parks-and-nature/heritage-trees/ht-2014-233

 

(Accessed 9 November 2016).
3

Symington CF (2004) Foresters' Manual of Dipterocarps. Second Edition. Forest Research Institute Malaysia, Kuala Lumpur, 519 pp.

[ a b c d ]
4

 

Ashton PS (1982) Dipterocarpaceae. In: Steenis CGGJ van (ed.) Flora Malesiana. Series I. Volume 9. Part 2. Martinus Nijhoff Publishers, pp. 237–552. [ a b ]
5
Symington CF (2004) Foresters' Manual of Dipterocarps. Second Edition. Forest Research Institute Malaysia, Kuala Lumpur, 519 pp. [ a b c d e f g ]
6
Sakai S (2002) General flowering in lowland mixed dipterocarp forests of South-east Asia. Biological Journal of the Linnean Society, 75: 233–247.
7

Sakai S, Harrison RD, Momose K, Kuraji K, Nagamasu H, Yasunari T, Chong L & Nakashizuka T (2006) Irregular droughts trigger mass flowering in aseasonal tropical forests in Asia. American Journal of Botany, 93(8): 1134–1139.

8

Ashton PS, Givnish TJ & Appanah S (1988) Staggered flowering in the dipterocarpaceae: New insights into floral induction and the evolution of mast fruiting in the aseasonal tropics. The American Naturalist, 132(1): 44–66.

9

Sun IF, Chen YY, Hubbell SP, Wright SJ & Nur Supardi Md. Noor (2007) Seed predation during general flowering events of varying magnitude in a Malaysian rain forest. Journal of Ecology, 95: 818–827.

10

Hosaka T, Yumoto T, Kojima H, Komai F & Nur Supardi Md. Noor (2009) Community structure of pre-dispersal seed predatory insects on eleven Shorea (Dipterocarpaceae) species. Journal of Tropical Ecology, 25(6): 625–636.

11
National Parks Board (2016) Heritage Trees: Meranti. National Parks Board Singapore, Government of Singapore, Singapore.

 

https://www.nparks.gov.sg/gardens-parks-and-nature/heritage-trees/ht-2014-233

 

(Accessed 9 November 2016).
12
Ashton PS (1982) Dipterocarpaceae. In: Steenis CGGJ van (ed.) Flora Malesiana. Series I. Volume 9. Part 2. Martinus Nijhoff Publishers, pp. 237–552. [ a b ]
13
Ashton P (1998) Shorea macroptera ssp. macroptera. The IUCN Red List of Threatened Species 1998.

 

http://dx.doi.org/10.2305/IUCN.UK.1998.RLTS.T33125A9759532.en

 

(Accessed 9 November 2016).
14
National Parks Board (2016) Heritage Trees: Meranti. National Parks Board Singapore, Government of Singapore, Singapore.

 

https://www.nparks.gov.sg/gardens-parks-and-nature/heritage-trees/ht-2014-233

 

(Accessed 9 November 2016).
15
Chong KY, Tan HTW & Corlett RT (2009) A Checklist of the Total Vascular Plant Flora of Singapore: Native, Naturalised and Cultivated Species. Raffles Museum of Biodiversity Research, National University of Singapore, Singapore. 273 pp.

 

http://rmbr.nus.edu.sg/raffles_museum_pub/flora_of_singapore_tc.pdf

 

Accessed 9 November 2016).
16
Ashton P (1998) Shorea macroptera ssp. macroptera. The IUCN Red List of Threatened Species 1998.

 

http://dx.doi.org/10.2305/IUCN.UK.1998.RLTS.T33125A9759532.en

 

(Accessed 9 November 2016)
17

Newman MF, Burgess PF & Whitmore TC (1995) Manuals of Dipterocarps for Foresters: Singapore. Royal Botanic Garden Edinburgh, Edinburgh, 104 pp.

18

 

Symington CF (2004) Foresters' Manual of Dipterocarps. Second Edition. Forest Research Institute Malaysia, Kuala Lumpur, 519 pp.
19
GBIF Secretariat (2016) Shorea macroptera Dyer. GBIF Backbone Taxonomy.

 

http://www.gbif.org/species/4097000

 

(Accessed 9 November 2016). [ a b ]
20
PlantUse Contributors (2016) Shorea macroptera (PROSEA). PlantUse.

 

http://uses.plantnet-project.org/e/index.php?title=Shorea_macroptera_(PROSEA)&oldid=205827

 

(Accessed 9 November 2016).
21
Corner EJH (1988) Wayside Trees of Malaya. Third Edition. Volume 1. The Malayan Nature Society, Kuala Lumpur, 476 pp., pls. 1–138.
22
Newman MF, Burgess PF & Whitmore TC (1995) Manuals of Dipterocarps for Foresters: Singapore. Royal Botanic Garden Edinburgh, Edinburgh, 104 pp.
23
Dyer (1874) S. macroptera, Dyer. In: Hooker JD (ed.) The Flora of British India. Volume 1. Part II. L. Reeve & Co., London, p. 308.
24
APG IV (2016) An update of the Angiosperm Phylogeny Group classification for the orders and families of flowering plants: APG IV. Botanical Journal of the Linnean Society, 181: 1–20. [ a b ]
25
Gamage DT, Silva MP, Inomata N, Yamazaki T & Szmidt AE (2006) Comprehensive molecular phylogeny of the sub-family Dipterocarpoideae (Dipterocarpaceae) based on chloroplast DNA sequences. Genes & Genetic Systems, 81: 1–12. [ a b ]
---
This page was authored by Rie Chong
Last curated on 2016